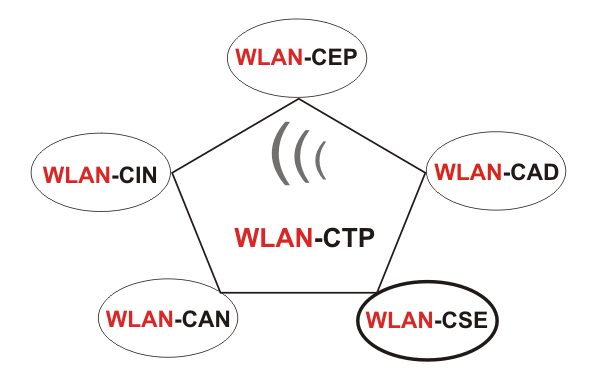 Wireless LAN Certified Security
(WLAN-CSE) / content
The Wireless LAN Security Course is the preparation for the WLAN-CSE exam and conveys the participants the essential knowledge, to implement and manage the Wireless security of the companies with view of the 802.11 (a/b/g), 802.11e and the 802.11n standard. This will be realized through the application of Layer2 and Layer3 hardware- and software-solutions which are realized with tools of leading vendors.
Target group
This course is suited for experienced network professionals, who want to acquire a substantiated know how of Wireless network security. Special topics, such as how a hacker attacks a network and means of forestalling this, are discussed.
Duration
The Wireless LAN security training takes 5 days. The practical training takes up 80 % of the total training time.
Certification
This training is the ideal preparation for the Wireless LAN certified security and Wireless LAN certifeid expert exams (WLAN-CSE / WLAN-CEP).
Prerequisites
It is adviced to have attended the WLAN-CAD training.
Content
Harrasment analysis and hacker methodics
Aim definition

Physical security

Helpful IT-employsee

Wireless bridges

packet analysis

Theft of information

Malicious data insertion

Denial of Service (DoS)

Peer-to-peer hacking

Attacks on EAP Protocol

Unauthorized control

WPA and 802.11i attacks

EAP DoS attack
Rudimentary security measures
SSID

MAC filters

Statical WEP

Default configuration

Firmware upgrades

Physical security

Periodical inventory
Continuative security measurements
Advanced security measurements
Wireless LAN Auditing & Attacking Tools
Password Crackers & Sniffer

Wireless protocol analyser

Default settings of the vendor

Antenneas and WLAN equipment

Port scanning

Qeensland

Network Utilities

Network Discovery and Management

Hijacking User

RF jamming and data flooding tools

WEP Crackers

Aircrack

LEAP & PPTP cracking

WPA-PSK craking

Wavemon

Mognet

Kismet

AirTraf

WLAN-Jack

Fata-Jack

Airsnort

BSD-Airtools
Hardware & software solutions
RADIUS

Kerberos

Statical and dynamical WEP and TKIP

802.1x

Extensible Authentication Protocol (EAP)

VPNs

Encryption techniques

Router

Switch-Router

Firewalls

Mobile IP

VPN solutions

Enterprise Wireless Gateways

Switches, VLANs, & Hubs

SHH2 tunneling & port deviation
Prevention & counter measures, Access Control
EAP Authentication Protocol
Upper Layer Authentication
WLAN Encryption and Data Integrity Protocol
IEEE 802.11i

Encryption Protocol

WEP

TKIP (802.11i / WPA)

CCMP
WPA and RSN key structure
Pairwise and groupwise key

Pairwise key structure

Groupwise key structure

Key structure in connection with AES-CCMP
The introduced topics will be completed with numerous labs.
www.wlan-ctp.de, www.wlan-ctp.eu, www.wlan-ctp.com, www.airdefense.de, www.cnti.de